25GHz LiNbO3 Modulator Driver, Wide Band Amplifier, EVK-RF-A-25-M
The driver amplifier is a general-purpose broadband amplifier designed especially for  Mach-Zehnder optical modulator driver applications. Its exceptional performance and small size make it an easy addition to your Intermediate Reach, Long Haul, or Ultra Long Haul network infrastructure design. It provides a complete driver module package with a wide frequency range of 30 kHz to 25 GHz, low power dissipation, ample drive signal, very low added-jitter, fast rise time, and external control.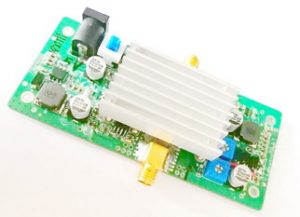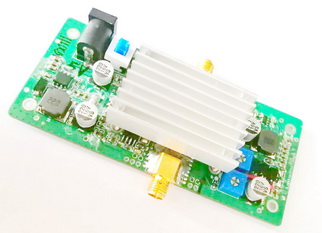 Product Highlight
Low power, 2.0W, and low jitter
3dB bandwidth, up to 25GHz
Fixed Gain,  4.5Vpp
Turnkey EVB, DC 5V, Plug and Play
Application
EML, EA, MZM Driver
Microwave Photonics
Pulse generator and amplifier
Specification
Parameter
Unit
Min.
Typ.
Max.
Data Rate
Gbps
20
25
32
3dB Bandwidth
GHz
20
25
–
Small Signal Gain@10GHz
dB
–
20
–
Output Amplitude Swing**
Vpp
1.0
4.5
5.5
Input Amplitude Swing
Vpp
0.3
0.4
0.5
Variable Gain
dB
–
2
–
Noise Figure
dB
–
7.5
–
Rise / Fall Time@25Gbps
ps
–
8
–
Input, Output Impedance
Ohms
–
50
–
Signal  Output and Coupling
–
Single Ended
AC Coupled
RF Port
–
SMA Male
Operating Temperature
℃
0 ~50
Power supply*
–
DC5V, 1A (EVB)
Dimensions  (L×W×H)*
mm
93×41×15 (EVB)
*The specifications subject to change without notice.** Output Swing up to 7Vpp is available up request.
Order Information
EVK-RF-A-25-M
| | | | |
| --- | --- | --- | --- |
| 1 | 2 | 3 | 4 |
| Package | Band Width | Output Swing | RF Connector |
| E=EVB | 20=20GHz | 4=4.5Vpp | K=SMA |
| | 25=25GHz | | |
Eye Pattern Performance (NRZ @ 25Gbps & 32Gbps)