DESCRIPTION
The NRZ transmitter module consists of InP Mach Zehnder Modulator and conventional Distributed Feed-Back (DFB) laser. The modulation signal is applied to the integrated MZM modulator while the laser works in CW mode. The internal thermal and power control make the wavelength and optical power highly stable. And non-drifting feature of InP MZM guarantees the performances of NRZ transmission over long term. The compact size and low cost makes it ideal for NRZ transmission or stress test up to 40Gbps.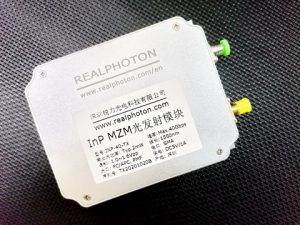 FEATURES
High extinction ratio , NRZ@40Gbps
Low drive voltage, Wide band-width
Compact size with integrated MZM and DFB Laser
APPLICATIONS
High-speed short reach communication
Wide band PD, ROSA, Receiver stress test
SPECIFICATION
Parameter
Unit
Min.
Typ.
Max.
Nominal Wavelength
nm
1547
1550
1553
Wavelength Stability/Hour
pm
–
2
–
DC Optical Power
dBm
–
3
7
Data Rate
Gbps
–
40
–
Side Mode
Suppression Ratio
dB
35
–
–
Extinction Ratio
dB
8
–
–
Input Driver Swing
Vpp
–
1.0
2.0
Input Driver Offset
V
–
0
–
Relative Intensity Noise
(f<10GHz)
dB/Hz
–
–
-135
RF Connector
–
K Female
(SMA Compatible)
Operating Temperature
℃
0 ~ 50
Storage Temperature
℃
-20 ~ 70
Relative Humidity
%
20~90
(Non-condensation)
Power supply*
–
DC 5V, 1A (Module)
Dimensions  (L×W×H)*
mm
100×80×20 (Module)
Note: *The specifications subject to change without notice.
ORDER INFORMATION
TX-INP-1-2-3-4-5-6-7
| | | | | | | |
| --- | --- | --- | --- | --- | --- | --- |
| 1 | 2 | 3 | 4 | 5 | 6 | 7 |
| Package | NRZ Data Rate | Wavelength | Output Power | RF Connector | Fiber Type | Connector |
| M=Module | 40=40Gbps | 15=1550nm | 3=3dBm | K=SMA | P=PM fiber | FA=FC/APC |
| | 10=10Gbps | | 7=7dBm | | S=SM fiber | |
EYE DIAGRAM @>=32 Gbps