10GHz Directly Modulated Laser Module, 1550 or 1310nm, DML
The directly-modulated laser (DML) is a cost-effective solution for 10Gbps digital transmission of up to 60 km using traditional intra-city SMF-28 single-mode fiber links. Or It is also suited for analog fiber transmission. The package contains a high-speed DFB laser chip, thermoelectric cooler, thermistor, optical isolator, and a rear-facet monitor photodiode for external optical power control.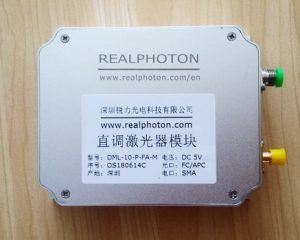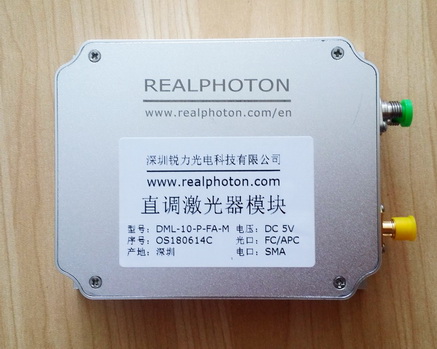 Applications
High-speed optical fiber communication
Microwave Photonics
Analog transmission
Features
Wide range of powers and distances
Low drive voltage, excellent linearity
Up to 60km transmission capability
Specifications
Parameter
Unit
Specification
Operating Wavelength
nm
1310 or 1550
Optical Power
mW
1 ~ 10
High-frequency Cutoff (-3 dB)
Hz
>=10G
Low-frequency Cutoff (-3 dB)
Hz
<=30K
Side mode Suppression Ratio
dB
>=35
Optical Isolation
dB
>=30
Chromatic Dispersion Penalty
(50 km, SMF28, 200 ps/nm)
dB
>=1.0
Input Driver Voltage Swing
V
<= 3.0
Wavelength Tuning Coefficient
nm/℃
Typ. 0.085
RF Connector
–
SMA
Operating Temperature
℃
0 ~ 50
Storage Temperature
℃
-20 ~ 70
Relative Humidity
%
20~90
(Non-condensation)
Power supply*
–
DC 5V, 1A (Module)
Dimensions  (L×W×H)*
mm
100×80×20 (Module)
Note: *The specifications subject to change without notice.
Order Information
LD-DM-1-2-3-4-5-6-7
| | | | | | | |
| --- | --- | --- | --- | --- | --- | --- |
| 1 | 2 | 3 | 4 | 5 | 6 | 7 |
| Package | Bandwidth | Wavelength | Output Power | RF Connector | Fiber Type | Connector |
| M=Module | 10=10GHz | 15=1550nm | 3=3mW | SMA=SMA | S=SM fiber | FA=FC/APC |
| | 01=1GHz | 13=1310nm | 10=10mW | XXX=Customize | P=PM fiber | |
Eye Diagram at 11.3Gbps