DESCRIPTION
The coherent receiver is an O/E evaluation equipment designed to convert DP-QPSK / BPSK / xQAM optical data to differential electrical signals.  It consists of integrated coherent receiver module, power and control board. The receiver offers several user-adjustable characteristics such as RF gain, PD bias, and mode of operation, Auto Gain Control (AGC) or Manual Gain Control (MGC) and is ideally suited for a variety of applications. Additionally, the output voltage swing adjustment is available.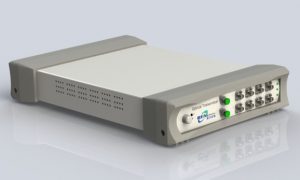 FEATURES
Internal Linear Balanced Photo-receivers.
Integrated Dual-Polarization 90 Degree Optical Hybrid.
Plug and Play, AC 90~220V Power Supply.
Independently adjustable PD bias, differential gain, and RF swing.
APPLICATIONS
QPSK, BPSK, 16QAM
Intradyne Link Testing.
200G bps Long Haul Transition.
SPECIFICATIONS
Parameter
Unit
Min.
Typ.
Max.
Operating Wavelength
nm
1527
1550
1567
Baud Rate
GBaud
–
25
–
Optical Input Power Signal
dBm
-18
–
0
Optical Input Local  Oscillator
dBm
+3
–
+13
Optical Return Loss
dB
27
–
–
Maximum Output Voltage Swing
mVpp
–
900
1200
Total Harmonic Distortion at 1 GHz
%
–
–
2
Phase Error for Hybrid
Deg
-7.5
–
+7.5
Optical Sensitivity
dBm
Typ. -18(@1550nm)
Polarization extinction for Sig & LO
dB
–
20
–
Photodiode dark current/PD
nA
–
160
–
Common Mode Rejection Ratio
dB
–
-20
–
RF Skew: P, N
ps
2
Signal  Output and Couple
–
Differential, AC Coupled
RF Output Port
–
2.92mm K-Female, 50 Ohms
Optical Fiber and Connector
–
SM28-e, FC/APC
Operating Temperature
℃
0 ~50
Power supply*
–
AC 90~220V
Dimensions  (L×W×H)*
mm
240x350x65
Note: *The specifications subject to change without notice.
*The appearance and the key component varies  according to different performance requirements.
ORDER INFORMATION
RX-ICR-1-2-3-4
| | | | |
| --- | --- | --- | --- |
| 1 | 2 | 3 | 4 |
| Package | Bandwidth | Wavelength | Connector |
| B=EVB | 25=25GHz | C=C band | FA=FC/APC |
| D=Benchtop | | L=L band | LC=LC/PC |
CONSTELLATION PERFORMANCE